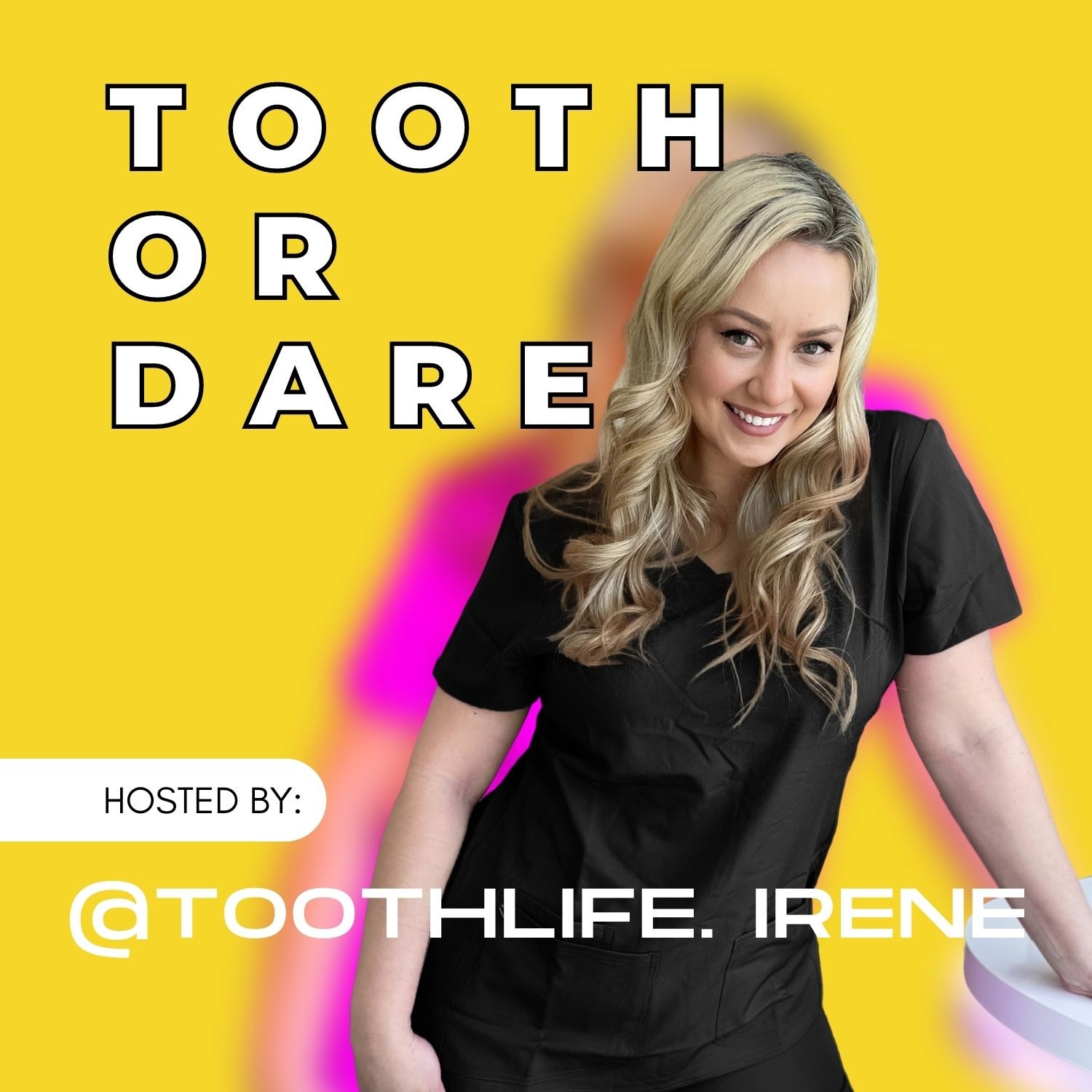 Hold on to your suction, it's about to get viscous. Irene, aka @Toothlife.Irene, on social media is the first (and only) Canadian Restorative Dental Hygienist with a podcast. Sharing her story surrounding her career, practice ownership, social media and, of course, dental-related content. On Tooth or Dare, she gives mic-dropping solutions to your dental questions and problems as a dental professional. With guests like top hygienists, dentists, researchers, product developers and more, this show has something for everyone interested in oral health and personal and professional development. Peeps say the content is entertaining and educational, packaged with actionable items. a Molar of the story, this is the podcast for you if you want to feel like you're part of a conversation from the comfort of your own... well, wherever the heck you're listening. Peace out, peeps, catch you on the flip side.
Episodes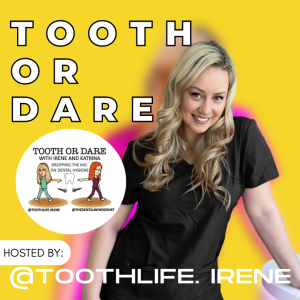 Friday Jan 06, 2023
Friday Jan 06, 2023
Hold on to your suction; this one is juicy.
In this podcast episode, Katrina shares an incredible story of how she got engaged this past year and opened a wine brand called the Wine Op. Both happen simultaneously and take a considerable amount of time and energy. 
Behind her back, her Lumber boyfriend (you've heard of him a lot by now) is secretly planning an extra special wine launch party that comes with a not-so-little accessory.  Katrina had no clue despite all the signs pointing to it. Classic Katrina for managing to be completely oblivious.
Furthermore, Irene reveals that she's on track to have a Christmas tree for the first time in five years and explains why she needs to be more conscientious of her personal life this year. Since the last episode, she's also made some life and career changes, including attending the Glo Good/Twice/Let Love Rule mission trip in the Bahamas we encourage you to check out and perhaps consider supporting. The link is in her Instagram bio. 
The real shocker hits at the end, when Katrina announces her intention to leave the podcast - which was something both ladies had known for a while but didn't want to share just yet. Despite their divorce from podcasting, they will remain friends, so don't worry; you'll see them at a hotel lobby bar comparing slide decks at the Star of the North, where both ladies will be dropping knowledge live on stage.  
Nonetheless, Irene will continue podcasting in 2023 and look forward to bringing lots of fun and educational guests on air, including some live content that will be recorded at the Voices of Dentistry Conference in a couple of weeks. 
—————————————————
Our host Irene encourages you to kindly leave them a review and a few stars to show you love the content! LET'S GO; she would do it for you if you asked! 
Find more episodes at https://www.toothordare.ca/
Mentioned Resources: 
Voices of Dentistry Conference (Jan 20th - 21st) Irene is taking the Main Stage with her topic:
Friday Jan 20th at 10am -> https://www.voicesofdentistry.com/event/irene-iancu 
Kat's Wine- The Wine Op -> https://www.thewineop.com/
Star of the North-  Saint Paul RiverCentre https://star.mndental.org/
Follow along on Instagram!
Podcast IG: @toothordare.podcast
Irene: @toothlife.irene
Katrina: @thedentalwinegenist