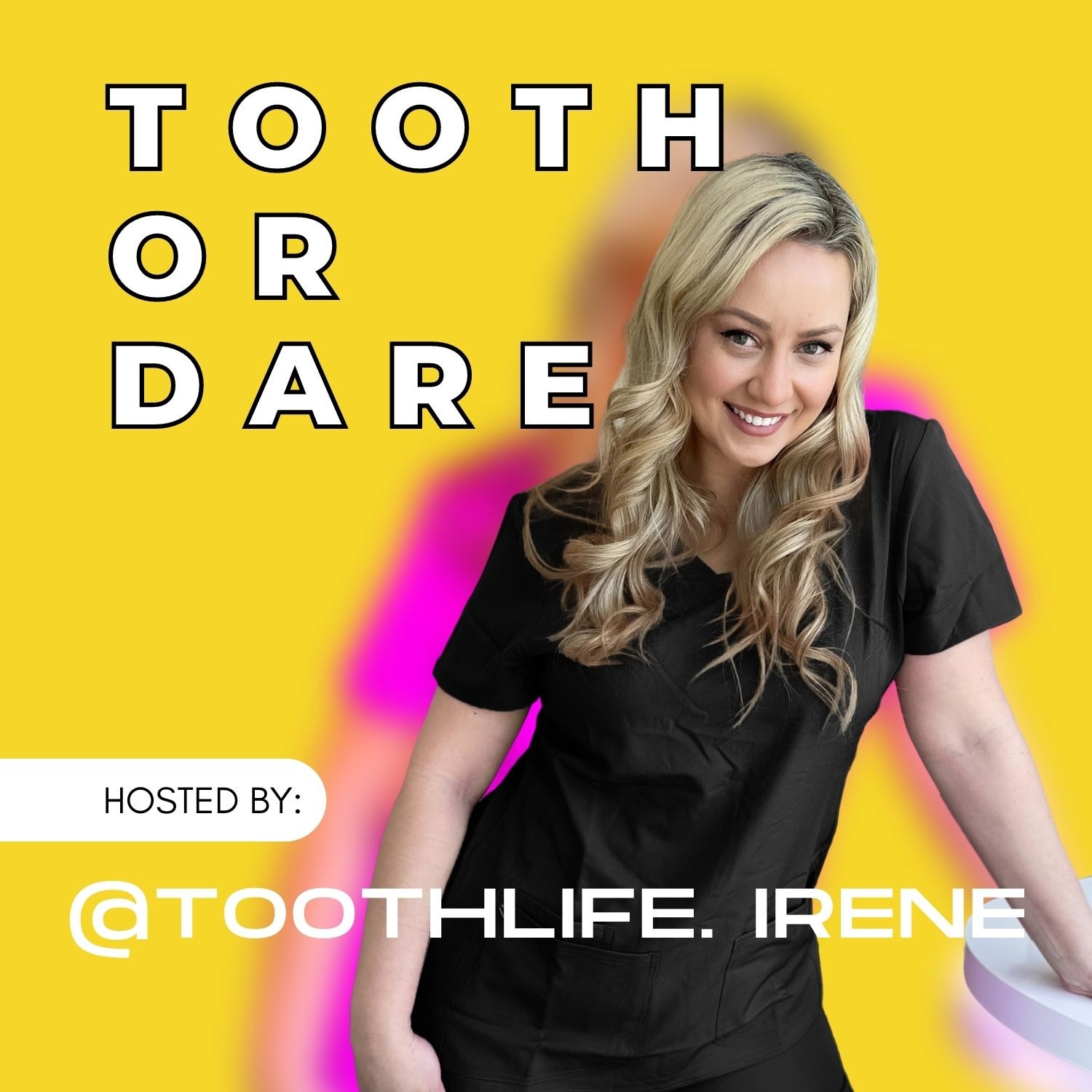 Hold on to your suction, it's about to get viscous. Irene, aka @Toothlife.Irene, on social media is the first (and only) Canadian Restorative Dental Hygienist with a podcast. Sharing her story surrounding her career, practice ownership, social media and, of course, dental-related content. On Tooth or Dare, she gives mic-dropping solutions to your dental questions and problems as a dental professional. With guests like top hygienists, dentists, researchers, product developers and more, this show has something for everyone interested in oral health and personal and professional development. Peeps say the content is entertaining and educational, packaged with actionable items. a Molar of the story, this is the podcast for you if you want to feel like you're part of a conversation from the comfort of your own... well, wherever the heck you're listening. Peace out, peeps, catch you on the flip side.
Episodes
Thursday Jul 18, 2019
Thursday Jul 18, 2019
Welcome back peeps to another episode of Tooth or Dare with Irene and Whitney! 
This Episode is Dedicated to our friend Paul our Instagram buddy who always listens to our episodes and comments on our posts. Thanks, Paul for being an awesome friend!  @Swole_DDS
This is Officially that LAST Episode from Chicago Midwinter with the amazing @TheDentalYogis
Thank you to Hu-Friedy for sponsoring this episode! This week @Toothlife.Irene got to try a new sparkly instrument called the EverEdge 2R/2L and has fallen in love with this universal curette. 
72% sharper out the box than your average scaler this beauty is a universal built for the anterior teeth.
Click Here Here Here Here Here Here to see the video of this beautiful instrument!
What to expect with this episode:  
Say hello to Dr. Cristian Pavel and Dr. Danielle Cascioli
Met in Las Vegas back in 2016 on a last min trip but it turned into this beautiful relationship. 
Yoga began with Danielle in Dental school, Cristian was not a yogi at this point. 
Inspired by @acrobuddhas
The first San Marcos La Laguna was mentioned as a cool place to travel to for a retreat or just a cool experience in a small town in Guatemala.  
Join the Yogis Live on Sundays at 1 pm CST on their IG to practice with them via Instagram! 
NEW TO EVERYONE! The Yogis now have an app
The Yogis have collaborated on a cool app, check it out in the App Store called hiitide app to subscribe to their yoga program! 
Want to reach out to the Yogis, Check out their website dentalyogis.com and DM them on Instagram. 
Check out our Instagram within the next 7 days to watch this dare go down! Whitney is gonna FLY!