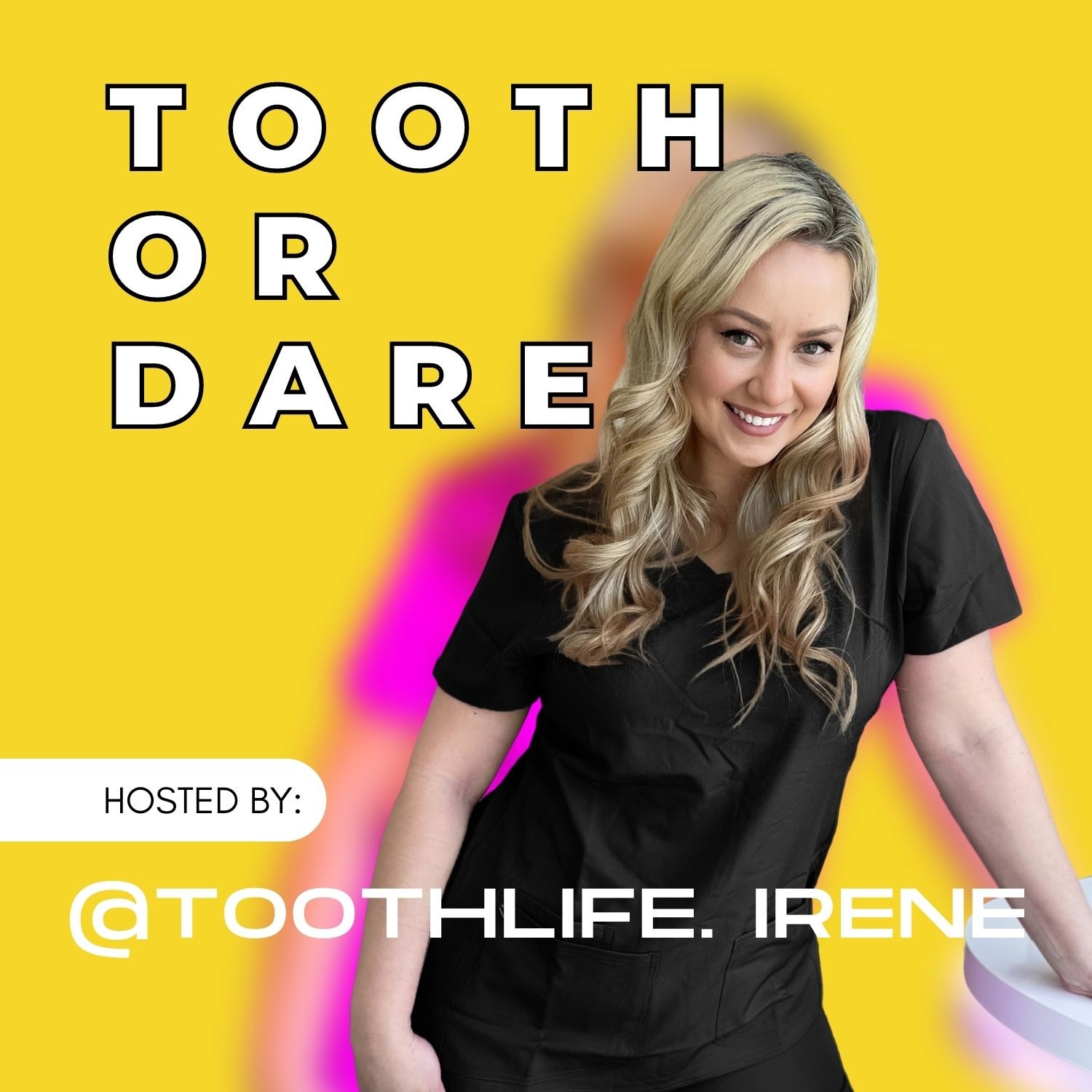 Hold on to your suction, it's about to get viscous. Irene, aka @Toothlife.Irene, on social media is the first (and only) Canadian Restorative Dental Hygienist with a podcast. Sharing her story surrounding her career, practice ownership, social media and, of course, dental-related content. On Tooth or Dare, she gives mic-dropping solutions to your dental questions and problems as a dental professional. With guests like top hygienists, dentists, researchers, product developers and more, this show has something for everyone interested in oral health and personal and professional development. Peeps say the content is entertaining and educational, packaged with actionable items. a Molar of the story, this is the podcast for you if you want to feel like you're part of a conversation from the comfort of your own... well, wherever the heck you're listening. Peace out, peeps, catch you on the flip side.
Episodes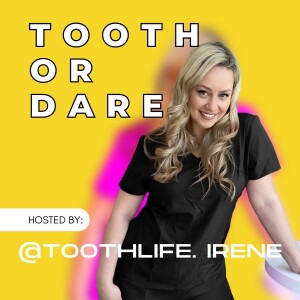 Tuesday Aug 10, 2021
Tuesday Aug 10, 2021
The Tooth or Dare Podcasts shares a warm welcome to our friends at Philips! Welcome to the podcast peeps, we are so excited to share fun facts about your amazing products with the "viewers at home." 
Scroll to the bottom to read more about the features of the new Sonicare 9900 Prestige and fun fact: 
Dental professionals can buy their trial unit by contacting their Philips sales representative or call (800)278 8282. 
Pricing: $159.99 CAD + tax (applicable to Canadian residents only)
Patients can buy the product via Philips online shop by visiting Philips.ca
In this week's episode, we welcome Nicole Fortune RDH to the pod to talk about all things perioscope, endoscope, and laser! 
Nicole is a registered dental hygienist who has extensive experience in periodontics, providing non-surgical and preventative care. Nicole believes the best patient care happens when combining her dental hygiene knowledge with the latest technology. She is a recognized expert in training dental hygienists in periodontics, including dental endoscopy, laser-assisted hygiene care and treatment of dental implants. Nicole has delivered multiple educational presentations to Vermont Technical College Dental Hygiene School, University of Michigan's Ramfjord Symposium, The National Osteology Foundation and The Institute for Dental Implant Awareness, and numerous other clubs and professional groups across the country. Nicole has been a clinical expert and speaker for the Facial Art Forum and an integral part of the Implant Care Practitioner training program through RDH Innovations. She is a Dental Codeology key opinion leader and is directly involved with the creation of new dental codes. She was awarded Dental Hygienist of the Year for 2017 in Vermont. Nicole earned her hygiene degree and her BA from the University of Vermont. She also holds an MBA from Champlain College.
During this episode, the ladies of the TofD podcast chat with Nicole about her extensive experience using periodontal endoscopes, lasers, and various pieces of equipment. 
Check out https://nicolefortunerdh.com/ for resources on laser and periodontal uses of endoscopy. 
Nicole can be found on IG: @FortunateRDH
 --- Find more of our episodes at https://www.toothordare.ca/
Follow us on Instagram! 
Podcast IG: @toothordare.podcast 
Irene: @toothlife.irene 
Katrina: @thedentalwinegenist
Irene and Katrina are excited to try out their new Sonicare 9900 Prestige. 
Here are more details on the new brush! 
 Philips Sonicare Power Toothbrush 9900 Prestige with SenseIQ
- Our most advanced electric toothbrush to date
- Senses and adapts to your unique brushing style
- All-in-on brush head cleans, whitens, and cares for teeth and gums
- Features unrivalled sonic technology
Sonicare power meets intelligent care.
Philips most advanced electric toothbrush is designed around you, sensing your brushing style and adapting as you clean to provide an optimum, personalized cleaning experience.
Sonic technology brushes away plaque gently and effectively by creating up to 62000 bristle movements. Dynamic fluid action help clean even hard-to-reach areas, leaving your mouth feeling exceptionally fresh and clean.
Always get it right with SenseIQ technology.
As you brush, sense IQ senses, adapts, and cares for your teeth and gums, offering a truly unique and personalized brushing experience. Philips Sonicare 9900 Prestige uses sensors to detects the pressure
you apply, the cleaning motion you use and the coverage you achieve – up to 100 times per second. 
- Removes up to 20x more plaque (vs manual toothbrush in a clinical study).
- Up to 100% less stains in less than 2 days (vs manual toothbrush in a lab test).
- Up to 15x healthier gums (vs manual toothbrush in six weeks in a clinical study).
Peace out peeps!