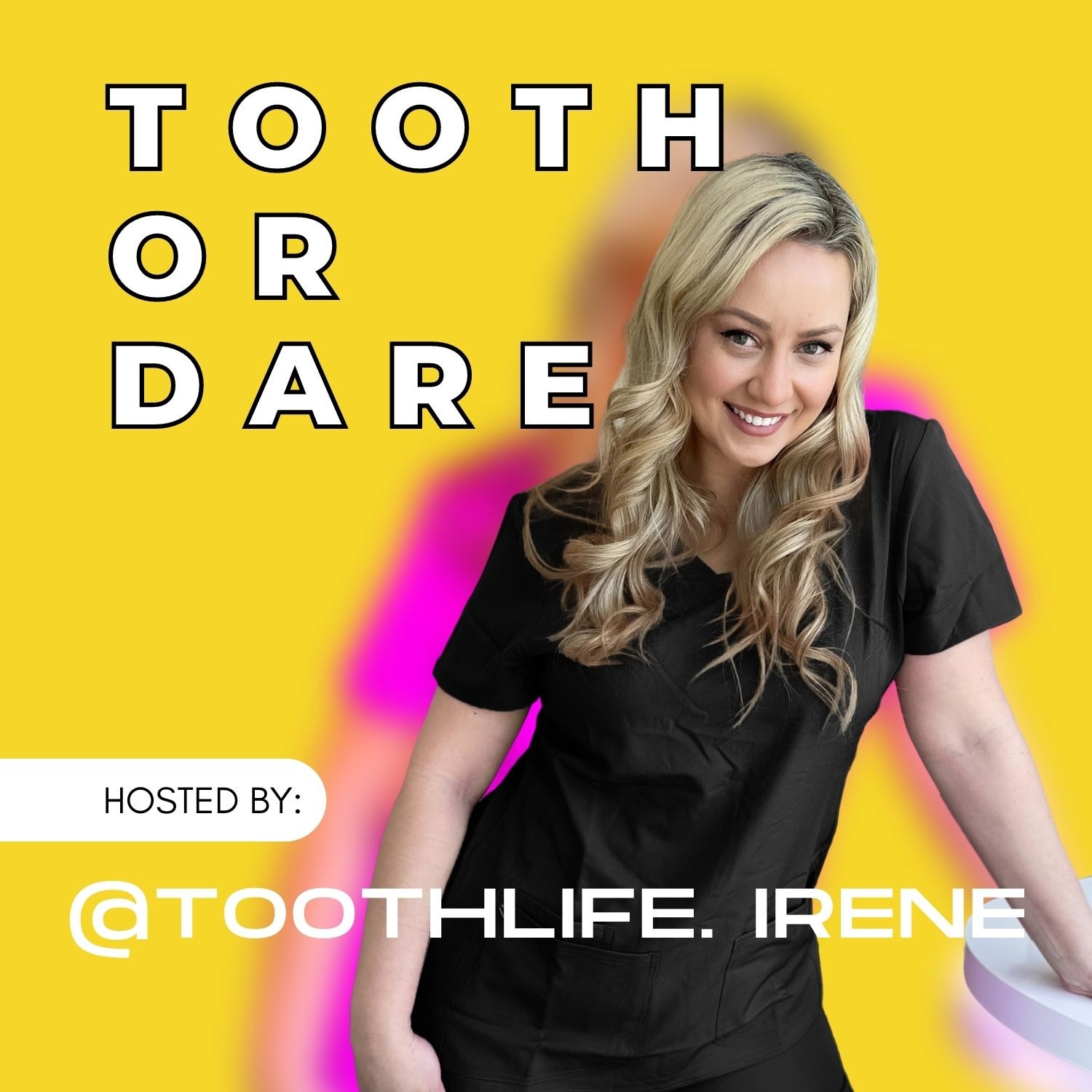 Hold on to your suction, it's about to get viscous. Irene, aka @Toothlife.Irene, on social media is the first (and only) Canadian Restorative Dental Hygienist with a podcast. Sharing her story surrounding her career, practice ownership, social media and, of course, dental-related content. On Tooth or Dare, she gives mic-dropping solutions to your dental questions and problems as a dental professional. With guests like top hygienists, dentists, researchers, product developers and more, this show has something for everyone interested in oral health and personal and professional development. Peeps say the content is entertaining and educational, packaged with actionable items. a Molar of the story, this is the podcast for you if you want to feel like you're part of a conversation from the comfort of your own... well, wherever the heck you're listening. Peace out, peeps, catch you on the flip side.
Episodes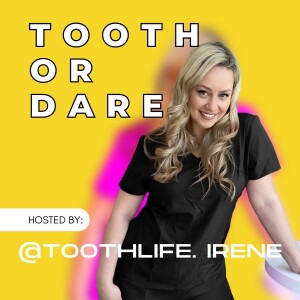 Sunday Jul 25, 2021
Sunday Jul 25, 2021
Welcome back peeps to another episode of the Tooth or dare Podcast!
We are grateful to have Dentsply Sirona as this weeks' sponsor. 
The Nupro Freedom Cordless Prophy System from Dentsply Sirona is ergonomically designed to reduce strain and musculoskeletal disorders. We both use the Nupro Freedom along with the splatter-free (and gluten-free!) Nupro prophy paste in our practices. The comfortable and quiet Nupro Freedom is the best option for keeping our patients and our wrists happy. The removable and autoclavable outer sheath, the 20 unique disposable angles, and the increased maneuverability make this a must-have tool in the hands of dental hygienists. 
Get your Nupro Freedom Cordless Prophy System today at the Dentsply Sirona website.
https://www.dentsplysirona.com/en-us/categories/preventive/nupro-polishing.html 
Ask your local sales rep if they have a demo unit to use, perhaps this may help you convince the peeps in the practice with buying power! 
This week Irene and Katrina interview Dr. Dave Shirazi whose bio speaks for itself. Irene had a hard time getting to all the details because of her spotty internet situation but here it is! 
Dr. Shirazi graduated from Howard University College of Dentistry, in Washington D.C. in 2000 and earned a Masters's degree in Oriental Medicine from SAMRA University in 2006 and is also a board-licensed Acupuncturist. He has completed over 2000 hours of continuing education in TMD and facial pain, craniomandibular orthopedics, and sleep-disordered breathing. He has also completed a hospital mini-residency in oriental medicine at the China Beijing International Acupuncture Training Centre which is the only organization the World Health Organization (WHO) has authorized to teach internationally on acupuncture and herbology, and another at Kyung Hee University and Medical Center, the top medical hospital and medical research school in Korea. From 2011 through 2016, he became a board-licensed RPSGT, the first and so far only, dual degreed dentist and RPSGT. He is the founder of the Bite, Breathe and Balance Podcast, dedicated to the multidisciplinary approach to treating craniofacial pain and sleep disorders in adults and children. Dr. Shirazi is the director of state-of-the-art private practices, The TMJ and Sleep Therapy Centre of Conejo Valley and Los Angeles, that are limited to the treatment of TMD, craniofacial pain, Sleep breathing disorders, and craniomandibular orthopedics. His practice is part of the TMJ and Sleep Therapy Centre international family, one of over 65 Centres throughout the world, and is located in the beautiful hills of Thousand Oaks and Brentwood CA. Personally, Dr. Shirazi enjoys hiking and camping in the state parks, travelling, and speaking. He is married to the love of his life Kimberly Shirazi and has welcomed their first son, Maximus. They live in the Santa Monica Mountains, where they are very close to nature. Disclosures: Typically part of a clinical research study, My Sleep Lab conducts research for multiple industries including pharmaceutical industry Adjunct Board supporter, lecturer, AACP Private Practice
This episode had a lot of great takeaways related to TMD pain, Oriental Medicine vs Western Medicine and fun facts about what really happens behind the doors of an endo office. 
Find Dr. Dave Shirazi 
Send him an email at daveshirazi@yahoo.com 
or on his website http://www.sleepconejo.com/shirazi/
___________________________________________________
Our hosts encourage you to leave them a review! LET'S GO!
Find more of our episodes at https://www.toothordare.ca/
Follow us on Instagram!
Podcast IG: @toothordare.podcast
Irene: @toothlife.irene
Katrina: @thedentalwinegenist