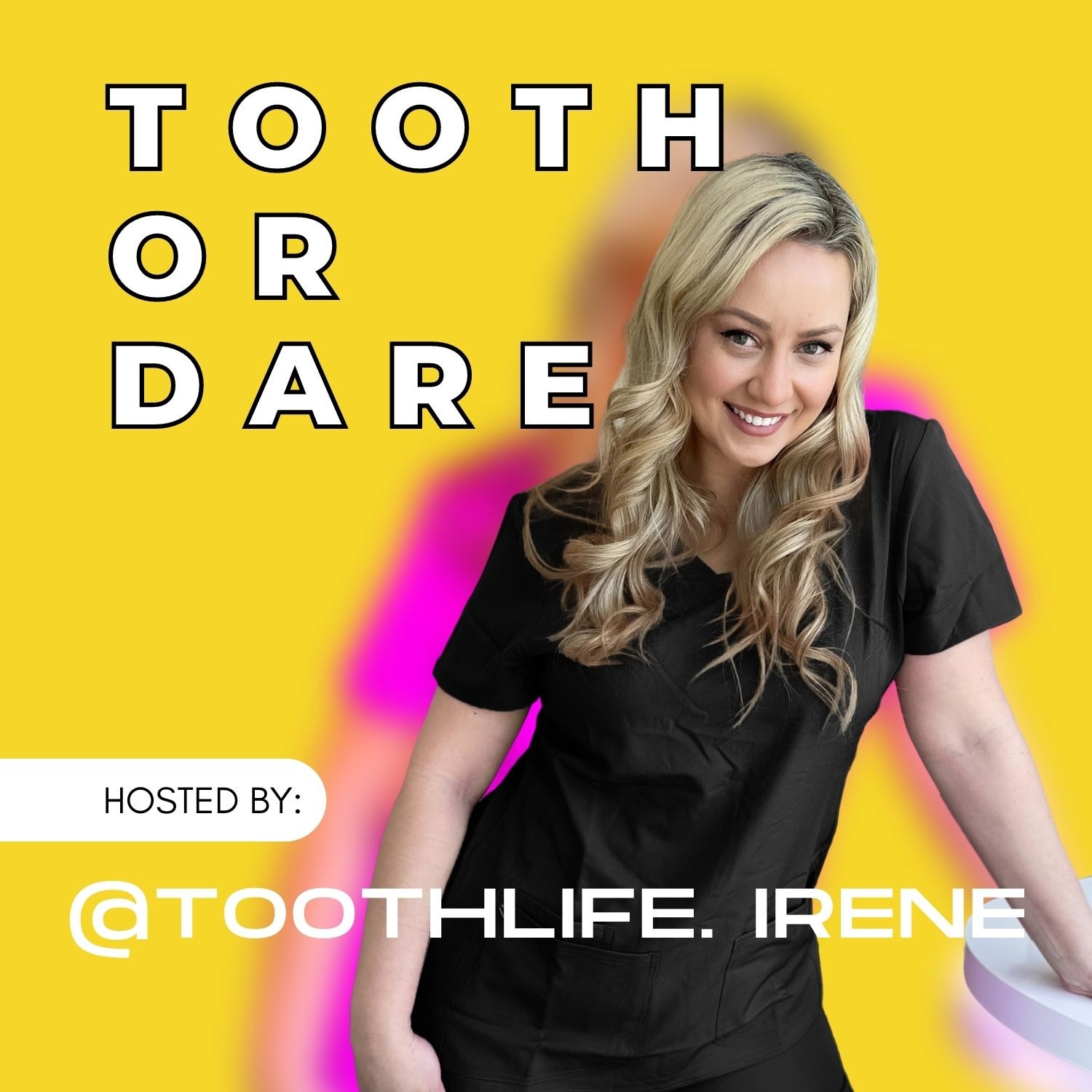 Hold on to your suction, it's about to get viscous. Irene, aka @Toothlife.Irene, on social media is the first (and only) Canadian Restorative Dental Hygienist with a podcast. Sharing her story surrounding her career, practice ownership, social media and, of course, dental-related content. On Tooth or Dare, she gives mic-dropping solutions to your dental questions and problems as a dental professional. With guests like top hygienists, dentists, researchers, product developers and more, this show has something for everyone interested in oral health and personal and professional development. Peeps say the content is entertaining and educational, packaged with actionable items. a Molar of the story, this is the podcast for you if you want to feel like you're part of a conversation from the comfort of your own... well, wherever the heck you're listening. Peace out, peeps, catch you on the flip side.
Episodes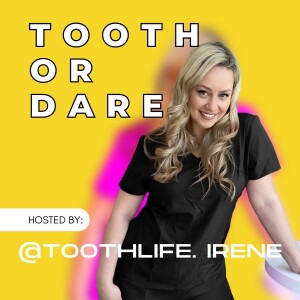 Monday Jun 07, 2021
Monday Jun 07, 2021
Katrina Sanders (AKA @TheDentalWinegenist), our in-house sommelier, our beloved & intelligent teacher, and insightful co-host of Tooth or Dare is finally in the hot seat! In the second installment of our new series, Irene&Trene, Irene asks Katrina to give us the way back playback. Katrina walks us through her early fascination with dental hygiene, her experience as a self-described dweeb in hygiene school, and her first experiences working in a dental practice. Katrina also talks in detail about her process of becoming a professional speaker and educator in the field and offers her advice to the young aspiring hygienists and dentists out there.
Irene&Trene is a new series where your two favorite hygienists speak off the cuff from their combined decades of experience to tell the truth about the dental industry. We will still continue our normal interview series, so stay tuned for more great interviews with dental professionals who are changing the game!
We are grateful to have Dentsply Sirona as this weeks' sponsor!
The Nupro Freedom Cordless Prophy System from Dentsply Sirona is ergonomically designed to reduce strain and musculoskeletal disorders. We both use the Nupro Freedom along with the splatter free Nupro prophy paste in our practices. Its unique proprietary formulation is designed to deliver consistent, splatter-free performance. It boasts excellent stain removal and polishing, with color-coded grit options and 13 gluten-free flavors for our beloved gluten-sensitive folks out there!
The Nupro Revolv Disposable Prophy Angles are now available in a wide variety of cup options: soft, firm, pedo, tapered brush, pointed tip, and spiral cup. These angles exhibit reduced splatter, interproximal cleaning, and improved access around crowns or orthodontics.
Check out the Nupro Freedom Cordless Prophy System and more of Dentsply Sirona's excellent products at the link below!
https://www.dentsplysirona.com/en-us/categories/preventive/nupro-polishing.html
We cover some of these topics and much more:
Should pediatric dentists wear bling?

What is it like to work in a medicare/medicaid practice?

How do you get speaking gigs in the dental/hygiene industry?
---
Find more of our episodes at https://www.toothordare.ca/
Follow us on Instagram!
Podcast IG: @toothordare.podcast
Irene: @toothlife.irene
Katrina: @thedentalwinegenist