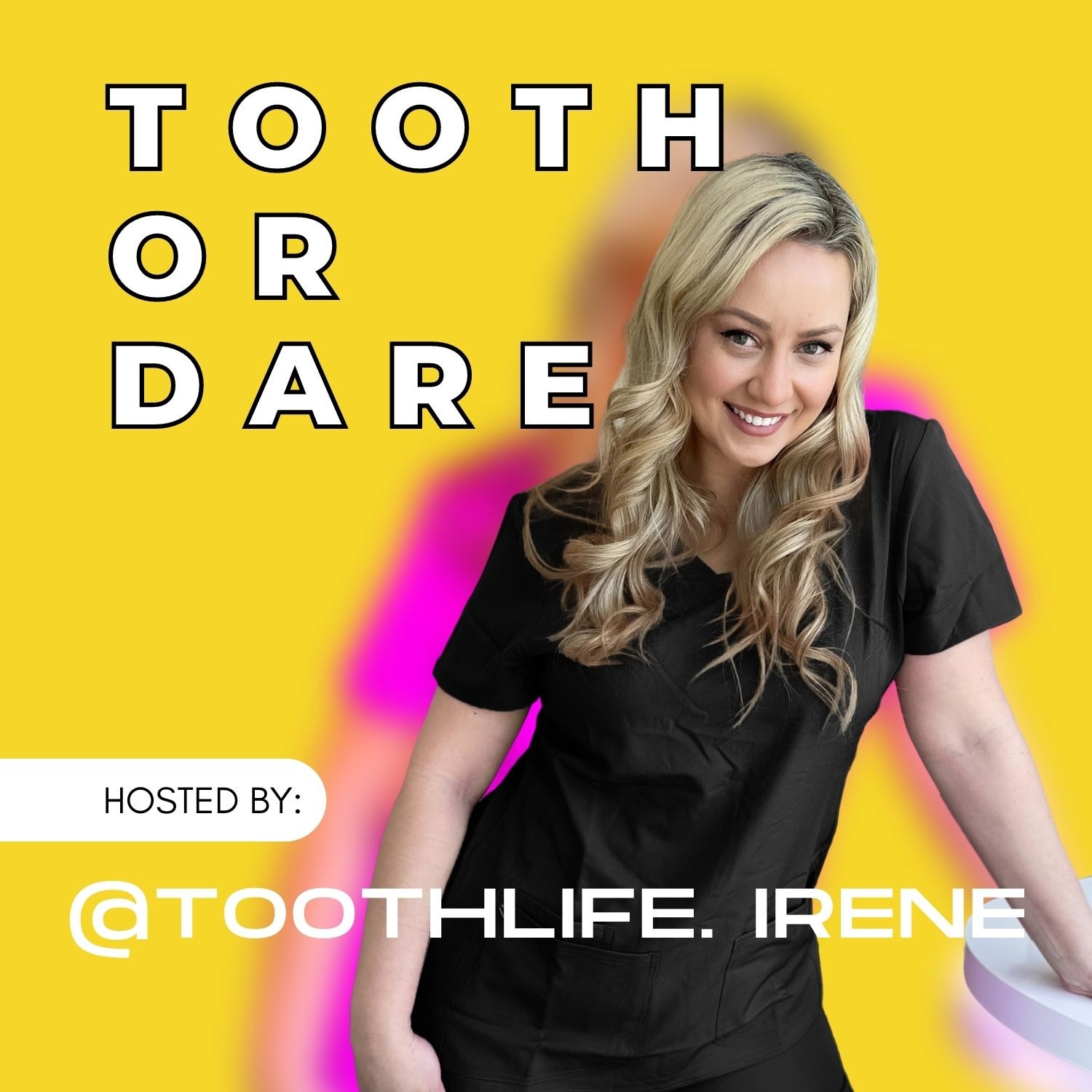 Hold on to your suction, it's about to get viscous. Irene, aka @Toothlife.Irene, on social media is the first (and only) Canadian Restorative Dental Hygienist with a podcast. Sharing her story surrounding her career, practice ownership, social media and, of course, dental-related content. On Tooth or Dare, she gives mic-dropping solutions to your dental questions and problems as a dental professional. With guests like top hygienists, dentists, researchers, product developers and more, this show has something for everyone interested in oral health and personal and professional development. Peeps say the content is entertaining and educational, packaged with actionable items. a Molar of the story, this is the podcast for you if you want to feel like you're part of a conversation from the comfort of your own... well, wherever the heck you're listening. Peace out, peeps, catch you on the flip side.
Episodes
Monday May 17, 2021
Monday May 17, 2021
Carol Jahn, RDH, MS has a BS in dental hygiene from the University of Iowa and an MS in Continuing Education from the University of St Francis. She has been a dental hygienist since 1982; she practiced clinically for 14 years in general and periodontal practices. She is an international speaker and author, and industry leader. Currently, she is the Director of Professional Relations & Education for Water Pik, Inc. Carol received the ADHA/J & J Award of Excellence in 2013 and served on the board of the American Dental Hygienists' Association and has been a delegate to the International Federation of Dental Hygiene. She lives in the Chicago suburbs with her partner, Larry, and their dog Toby.
Check out Carol Jahn's course offerings which range in topics from office management to the current trends of tobacco use: https://www.waterpik.com/oral-health/pro/education/carol-jahn-rdh-ms/
---
Thank you to our friends at Hu-Friedy for sponsoring today's episode!
After over a year of the COVID-19 pandemic, we're all more aware of infection prevention and control best practices, and thanks to your hard-work and dedication, you've helped keep your practice safe. If we've learned one thing, it's that infection prevention and control will always be a top priority, and it requires constant vigilance. The potential risks are ever-present. That's why every detail matters and every step counts. 

HuFriedyGroup is here to help with a complete circle of protection for your practice, and they have some incredible educational resources to help understand areas of potential risk for your practice. Check out the Points of Protection video and explore their interactive images to learn more about the potential risks for an infection prevention breach in your practice, and see how HuFriedyGroup has what you need with their unmatched, comprehensive portfolio of infection prevention products. 
Visit this link to find out more: https://www.hu-friedy.com/back-to-practice/points-of-protection
---
Carol walks us through her early days as she went from hog farmer to author, speaker, and hygiene industry leader. She answers the following questions and much more!
What are the differences between the oral health risks of E-Cigarettes and Hookahs?

How do we identify and adapt to diverse personalities in the dental office?

Is there a place for in-office gossip?

Traditional floss vs. Waterpik: Which is better at removing interproximal debris?

What is air flossing and how does it compare to water flossing?
Find Carol Jahn online:
IG: @CAJRDH
---
Find more of our episodes at https://www.toothordare.ca/
Follow us on Instagram!
Podcast IG: @toothordare.podcast
Irene: @toothlife.irene
Katrina: @thedentalwinegenist