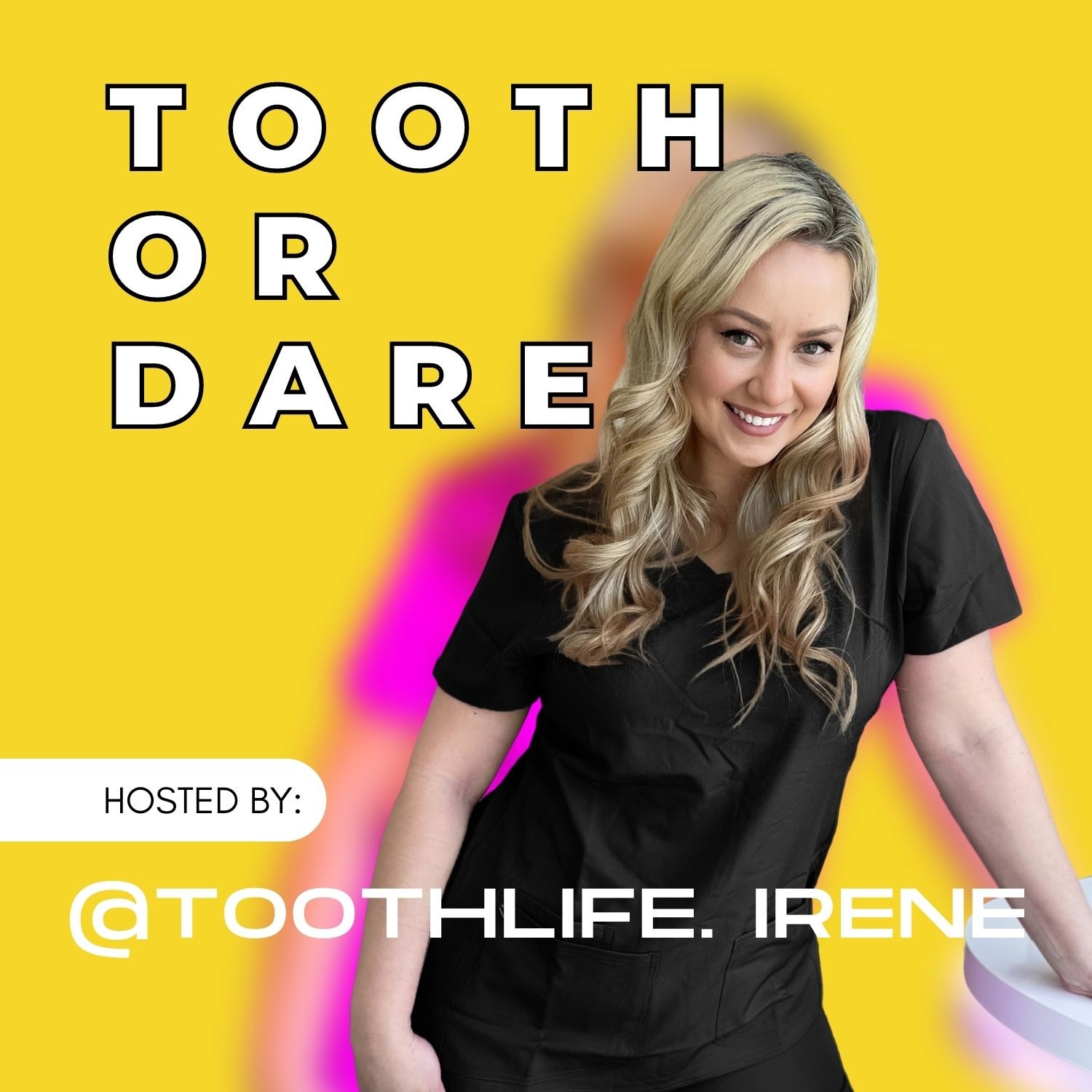 Hold on to your suction, it's about to get viscous. Irene, aka @Toothlife.Irene, on social media is the first (and only) Canadian Restorative Dental Hygienist with a podcast. Sharing her story surrounding her career, practice ownership, social media and, of course, dental-related content. On Tooth or Dare, she gives mic-dropping solutions to your dental questions and problems as a dental professional. With guests like top hygienists, dentists, researchers, product developers and more, this show has something for everyone interested in oral health and personal and professional development. Peeps say the content is entertaining and educational, packaged with actionable items. a Molar of the story, this is the podcast for you if you want to feel like you're part of a conversation from the comfort of your own... well, wherever the heck you're listening. Peace out, peeps, catch you on the flip side.
Episodes
Monday Apr 26, 2021
Monday Apr 26, 2021
Dr. Tim Donley
We are grateful to have Dentsply Sirona as this weeks' sponsor. 
The Nupro Freedom Cordless Prophy System from Dentsply Sirona is ergonomically designed to reduce strain and musculoskeletal disorders. We both use the Nupro Freedom along with the splatter free (and gluten free!) Nupro prophy paste in our practices. The comfortable and quiet Nupro Freedom is the best option for keeping our patients and our wrists happy. The removable and autoclavable outer sheath, the 20 unique disposable angles, and the increased maneuverability makes this a must-have tool in the hands of dental hygienists.
Get your Nupro Freedom Cordless Prophy System today at the Dentsply Sirona website.
https://www.dentsplysirona.com/en-us/categories/preventive/nupro-polishing.html 
---
Welcome back, Peeps!
We feel so lucky to have with us industry leader, educator, textbook author, and leading expert on the subject of gum disease, Dr. Tim Donley. In classic form, we rewind all the way back to Dr. Donley's early years of failing out of dental school and generally having no idea what to do with life. Eventually, he improvised unique ways to place himself at the forefront of gum disease treatment and education. We share our horror stories of keynote speeches gone wrong, talk about the future of dentistry, and about the flawed thinking that keeps hygienists from reaching their potential.
We cover these topics and much more:
How can we completely rethink the hour hygienists have with their patients?

Should dental hygienists be probing implants? 

Are lasers in periodontics any good?

What piece of equipment do you bring to a desert island? 
Dr. Donley is his own words:
I am a bad-ass periodontist who is the biggest supporter of dental hygiene on the planet. The most important health care provider a patient can see if they want to maximize their chance to achieve the fruits of wellness is a dental hygienist. Not just any hygienist, one that gets that it is time to do more than just clean teeth.
I believe that the best way to grow as a person is to help someone else grow as a person. Oh yea, I also love to take the tops off of double stuff Oreos and then put them together to make Quadruple stuff Oreos.

Find Dr. Tim Donley online:
IG: @BeyondTheMouth
Website: https://www.beyondthemouth.com/
---
Find more of our episodes at https://www.toothordare.ca/
Follow us on Instagram!
Podcast IG: @toothordare.podcast
Irene: @toothlife.irene
Katrina: @thedentalwinegenist