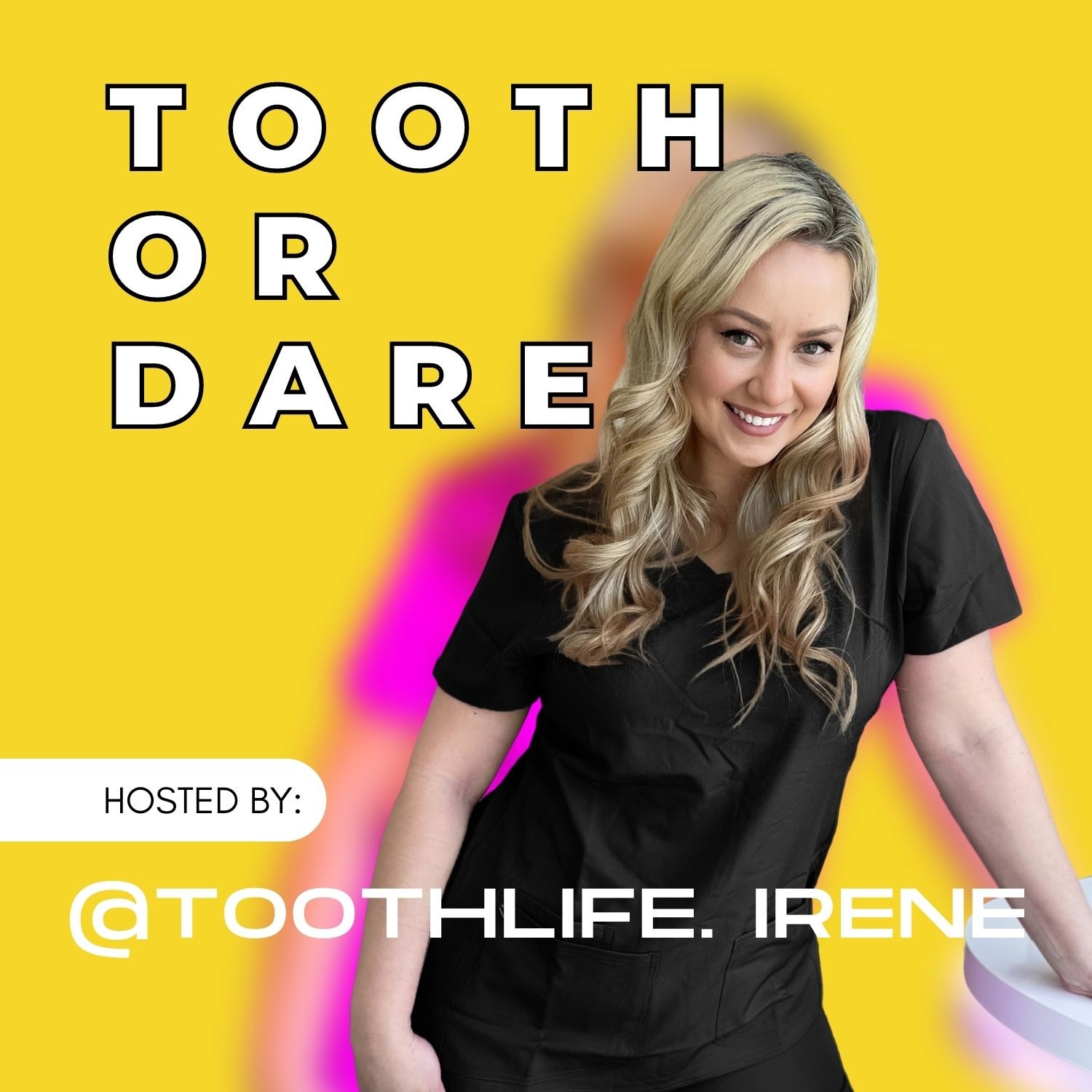 Hold on to your suction, it's about to get viscous. Irene, aka @Toothlife.Irene, on social media is the first (and only) Canadian Restorative Dental Hygienist with a podcast. Sharing her story surrounding her career, practice ownership, social media and, of course, dental-related content. On Tooth or Dare, she gives mic-dropping solutions to your dental questions and problems as a dental professional. With guests like top hygienists, dentists, researchers, product developers and more, this show has something for everyone interested in oral health and personal and professional development. Peeps say the content is entertaining and educational, packaged with actionable items. a Molar of the story, this is the podcast for you if you want to feel like you're part of a conversation from the comfort of your own... well, wherever the heck you're listening. Peace out, peeps, catch you on the flip side.
Episodes
Sunday Feb 14, 2021
Sunday Feb 14, 2021
Sonya Dunbar RDH, MHA, The Geriatric Tooth Fairy
Happy V-day, Peeps! 
Sign up for the upcoming National Mobile & Teledentistry Conference here: https://nmdconference.com/
March 4-6th
Sonya Dunbar speaks on the Future of Modern Mobile Dentistry!
---
We are so excited to have on the US Navy Veteran, author, entrepreneur, public speaker, teacher, and philanthropist, Sonya Dunbar RDH AKA The Geriatric Tooth Fairy! Sonya's vitality and effort to push our dental community forward culturally and medically is clear in her words and her life's work. She walks us through the early days of giving free dental care to her Grandmother's friends and soon dedicating her time to comprehensive geriatric dental care.
Sonya shares her experience of dishing out an industry-shattering speech at RDH Under One Roof 2020 and shares her experience of black invisibility in the white-dominated dental field and at dental conferences. Her long list of accomplishments makes her one of the most remarkable and dynamic peeps in the field today.
We cover some of these topics and much more:
How can we approach geriatric dental care as hygienists?

How do you educate seniors on dental care?

How can we address a lack of diversity in dentistry?
Sonya Dunbar's Biography: 
The Geriatric Tooth Fairy Sonya Dunbar, also known as the Geriatric Toothfairy, is a Registered Dental Hygienist, TEDx, and national public speaker guided by over 28 years of dental experience in private practice, skilled nursing facilities, and academia. Sonya and her husband, Gerald Dunbar, are the owners of Mobile Dental Xpress, providing comprehensive dental care to long-term care facilities. In addition, Sonya is a Geriatric Oral health educator and trainer. Sonya is a US Navy Veteran and is pursuing a Ph.D. in Gerontology.Sonya is a serial entrepreneur and successful Cultural diversity workplace coach that increase cultural awareness, knowledge, and communication through interactive educational workshops. She is a Key Opinion Leader on culture and diversity for Crest & Oral-B and known philanthropist. She is the Co-Founder of the National Mobile & Teledentistry Dental Conference, The American Mobile Dentistry & Teledentistry Alliance, and a published author of Golden Nuggets For Life, Co-Author of Modern Mobile & Teledentistry and The Tooth & Nothing but The Truth Books. And if that is not enough, the National Day Archives LLC has proclaimed November 9th of each calendar year as The Geriatric Toothfairy Day.
Find Sonya online:
Sonya's Videos along with The Suave & Sassy Senior Show: Geriatric Toothfairy Facebook Channel
Youtube: The Geriatric Toothfairy Channel
Preorder her upcoming book: https://thetoothandnothingbutthetruth.com/ 
All of Sonya Dunbar's Links: Linktree
---
Find more of our episodes at https://www.toothordare.ca/
Follow us on Instagram!
Podcast IG: @toothordare.podcast
Irene: @toothlife.irene
Katrina: @thedentalwinegenist