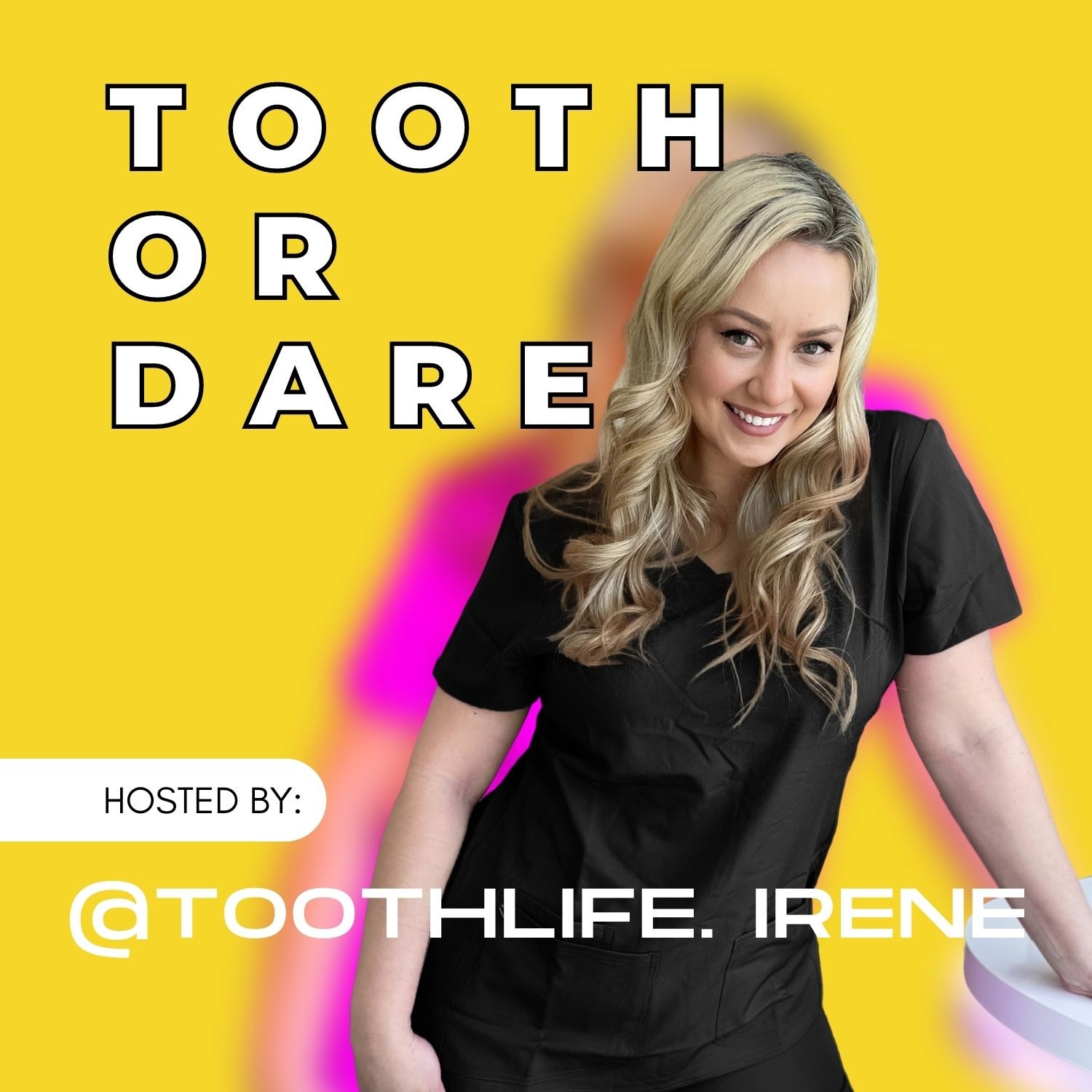 Hold on to your suction, it's about to get viscous. Irene, aka @Toothlife.Irene, on social media is the first (and only) Canadian Restorative Dental Hygienist with a podcast. Sharing her story surrounding her career, practice ownership, social media and, of course, dental-related content. On Tooth or Dare, she gives mic-dropping solutions to your dental questions and problems as a dental professional. With guests like top hygienists, dentists, researchers, product developers and more, this show has something for everyone interested in oral health and personal and professional development. Peeps say the content is entertaining and educational, packaged with actionable items. a Molar of the story, this is the podcast for you if you want to feel like you're part of a conversation from the comfort of your own... well, wherever the heck you're listening. Peace out, peeps, catch you on the flip side.
Episodes
Sunday Jan 10, 2021
Sunday Jan 10, 2021
Katrina Klein, RDH, CEAS, CPT
Welcome back, Peeps!
As we herald in a new year, it's probably about time that we drag ourselves to the gym (or open the rowing machine that's been sitting in its box for months).
This week on the third mic we are happy to have Katrina Klein, the founder of ErgoFit Life. In her decade-long career as an RDH (while moonlighting as a bodybuilder), Katrina came to recognize the health issues that all medical professionals face in their work. She speaks from experience when it comes to working and living healthier as a dental professional. In her work she offers individualized assessments and workout routines focused on workers in the medical field. We talk about chronic pain, preventative ergonomics, and how to live and work in a dental office pain-free. Katrina Klein provides some tangible ways we can build a program for ourselves that serves our unique needs.
We answer these questions and much more:
Do Dental Hygienists have bad backs?
How can I work out and work full time?
Does working out improve metabolism?
What is an ergonomic assessment?
Katrina's Biography:
For Katrina Klein, ergonomics is everything. She is a full time practicing Registered Dental Hygienist - has been for 13 years and counting. She knows firsthand the struggle of working in a stationary, inflexible environment. Katrina has dedicated herself to helping others prevent injury in the workplace, free themselves from physical discomfort in their dental career, and to retire without a disability. Whether instructing individual clinicians, small or large groups, she is passionate about teaching others to work smarter, not harder. She has been published in DentalTown Magazine and has more articles on the way!
As a competitive bodybuilder and personal trainer, Katrina has attained a unique understanding of the biomechanics behind clinical ergonomics. Her credentials include certification as an Ergonomics Assessment Specialist, which has given her the expertise and training to help provide safer procedures through proper ergonomics.
Thank you to our peeps at Dentsply Sirona for sponsoring our 60th episode holy molar! 
While Irene is at home scratching her hives, her team is eagerly awaiting the training on their brand new and amazingly awesome SiroLaser that has so many features that can be utilized by both doctors and hygienists. 
Irene shares her reasons for patiently awaiting its release here in Canada, some of those reasons being the ability to set procedure fav's for easy use during the treatment time. 
Debridement of the diseased epithelial lining
Laser removal of diseased, infected, inflamed and necrosed soft tissue within the periodontal pocket
Laser soft tissue curettage
Sulcular debridement (removal of diseased, infected, inflamed and
the necrosed soft tissue in the periodontal pocket to
improve clinical indices including gingival index, gingival bleeding index, probe depth, attachment loss and tooth inability)
Katrina shares some important information on the recent investigation around pathogen reduction with Lasers and the connection to ultrasonics, aerosols and a very informative article written by Noel Paschke titled, "A Path of Fewer Aerosols with Ultrasonics" 
Click on the links below to learn more about both the laser and a direct link to the article: 
Noel Paschke titled, "A Path of Fewer Aerosols with Ultrasonics" 
Find Katrina Klein online:
IG: @ergofitlife_katrina
Website: https://ergofitlife.com/
FB: @ergofitlife
---
Find more of our episodes at https://www.toothordare.ca/
Follow us on Instagram!
Podcast IG: @toothordare.podcast
Irene: @toothlife.irene
Katrina: @thedentalwinegenist