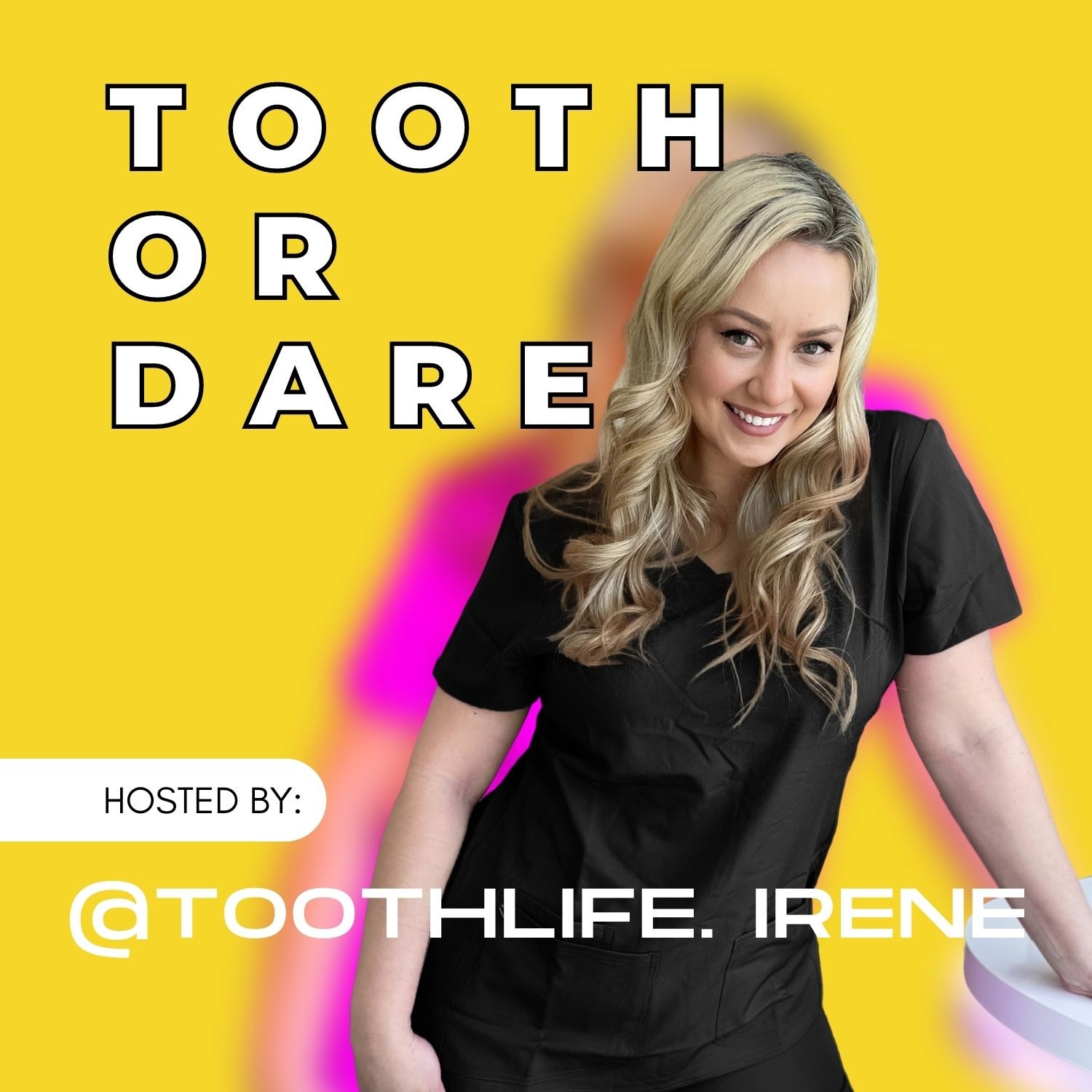 Hold on to your suction, it's about to get viscous. Irene, aka @Toothlife.Irene, on social media is the first (and only) Canadian Restorative Dental Hygienist with a podcast. Sharing her story surrounding her career, practice ownership, social media and, of course, dental-related content. On Tooth or Dare, she gives mic-dropping solutions to your dental questions and problems as a dental professional. With guests like top hygienists, dentists, researchers, product developers and more, this show has something for everyone interested in oral health and personal and professional development. Peeps say the content is entertaining and educational, packaged with actionable items. a Molar of the story, this is the podcast for you if you want to feel like you're part of a conversation from the comfort of your own... well, wherever the heck you're listening. Peace out, peeps, catch you on the flip side.
Episodes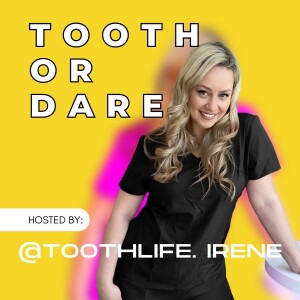 Tuesday Apr 18, 2023
Tuesday Apr 18, 2023
Welcome to our latest episode of the podcast, where we have the pleasure of interviewing Karen Davis, founder of Cutting Edge Concepts® and a renowned leader in continuing education for dental professionals. Karen has been recognized as a "Leader in Continuing Education" by Dentistry Today since 2006, and in 2023, she was awarded the Gordon J. Christensen Lecturer Recognition Award by the Chicago Dental Society.
Thank you to our sponsor Designs for Vision for hosting us at their booth at the Chicago Mid Winter Conference.
Do you often suffer from neck and back pain while trying to maintain a clear view of your work? Say goodbye to those aches and pains, thanks to our generous sponsor, Designs for Vision! Introducing the Infinity Vue loupes, the perfect solution for ergonomic discomfort. With these cutting-edge loupes, you can keep your chin up and your neck straight, all while enjoying a magnified view of the oral cavity without any strain.
This revolutionary technology allows clinicians to improve their quality of life by reducing the risk of repetitive stress injuries and prolonging their career. To top it off, Designs for Vision offers a 45-day trial, so you can experience the incredible difference in your posture for yourself. Say hello to a pain-free workday with the Infinity Vue loupes from Designs for Vision! 
Visit their Website or better Yet! Send Irene a DM and she will connect you with DFV directly! 
Karen's extensive experience as a practicing clinician, speaker, key opinion leader, and consultant has enabled her to offer innovative solutions and provide compelling health and wellness messages to colleagues internationally. In this episode, we delve into her journey to dental hygiene, her early career stories, and insights into how she became an educator in the field of dentistry.
Karen currently practices dental hygiene in Dallas, Texas, and has been with the same dental family for over 35 years. She shares her valuable knowledge and experiences gained throughout her career, from her early days as a practicing clinician to becoming an influential educator and leader in the dental industry.
Join us in this episode as we gain insight into Karen's journey to becoming a successful dental professional, her fun stories in her early years, and her thoughts on how far she's come as an educator in the field of dentistry. So, sit back, relax, and enjoy this fascinating conversation with Karen Davis.
If you made it all the way down here, hit a like and share a comment. Until next time, Peace out peeps! ✌️ _______________________________________
📦 Amazon Store with my FAV things: https://www.amazon.ca/shop/toothlife.irene?listId=YLX0271390I3
Follow on Social Media: _______________________________________
💁🏼‍♀️Personal Instagram @Toothlife.Irene https://www.instagram.com/toothlife.irene
🙋🏼‍♀️Facebook Irene Iancu https://www.facebook.com/irene.iancu
💃🏼TikTok @Toothlife.Irene https://www.tiktok.com/@toothlife.irene
🛒Online Store and Instagram @Toothlife https://www.instagram.com/toothlife
🥼Office Instagram @ToothlifeStudio https://www.instagram.com/ToothlifeStudio
_______________________________________
🎤Podcast @ToothorDare.Podcast https://www.instagram.com/ToothorDare.Podcast
_______________________________________
🔗🌲Cool links in my Linktree https://linktr.ee/TOOTHLIFE.IRENE