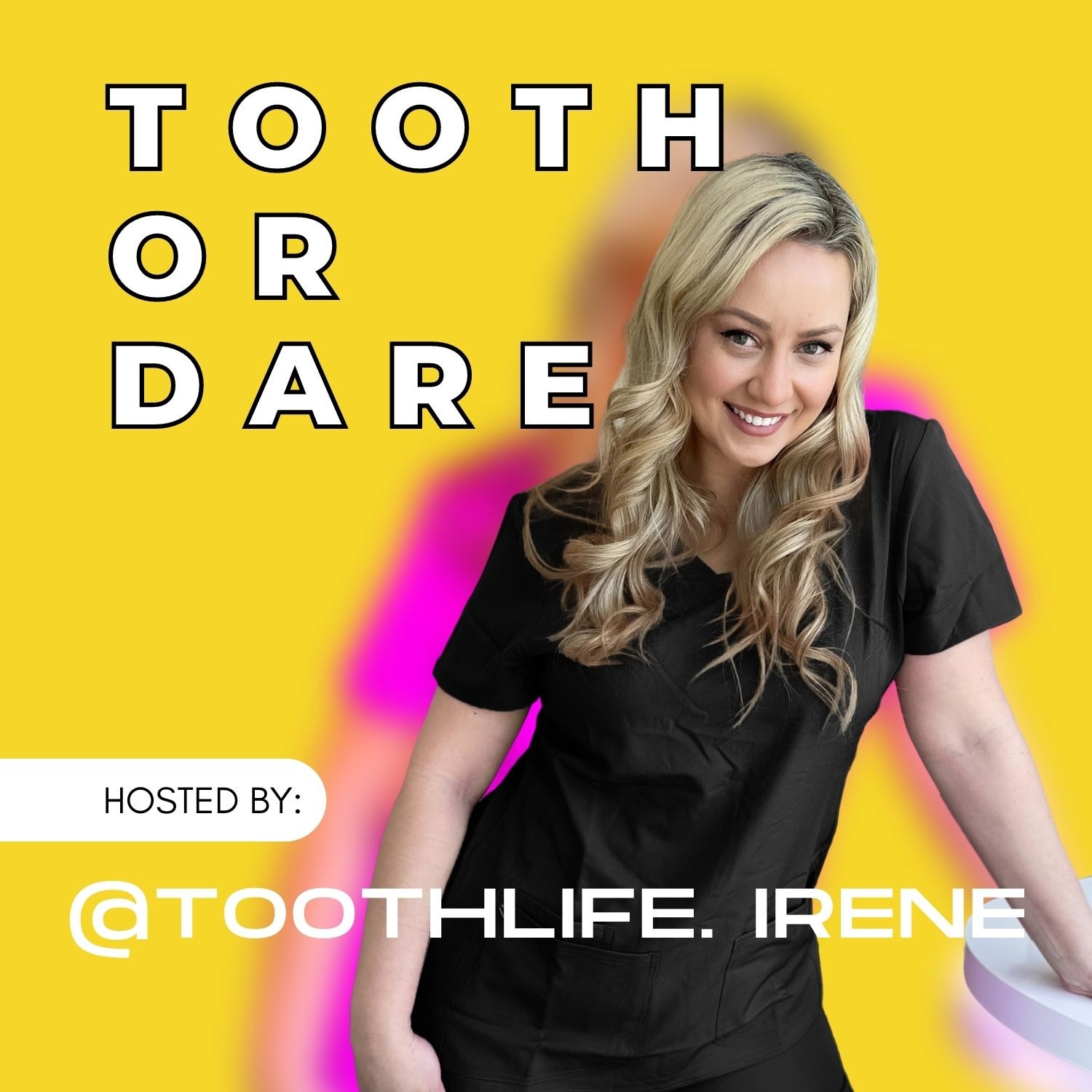 Hold on to your suction, it's about to get viscous. Irene, aka @Toothlife.Irene, on social media is the first (and only) Canadian Restorative Dental Hygienist with a podcast. Sharing her story surrounding her career, practice ownership, social media and, of course, dental-related content. On Tooth or Dare, she gives mic-dropping solutions to your dental questions and problems as a dental professional. With guests like top hygienists, dentists, researchers, product developers and more, this show has something for everyone interested in oral health and personal and professional development. Peeps say the content is entertaining and educational, packaged with actionable items. a Molar of the story, this is the podcast for you if you want to feel like you're part of a conversation from the comfort of your own... well, wherever the heck you're listening. Peace out, peeps, catch you on the flip side.
Episodes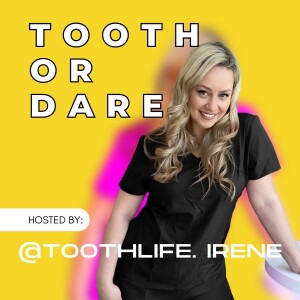 Monday Apr 03, 2023
Monday Apr 03, 2023
Welcome to the show notes and say hello again to another episode with Dr. Timothy Donley DDS MSD, a periodontist and implantologist based in Bowling Green, KY. Dr. Donley is a highly accomplished practitioner with an impressive educational background, including the University of Notre Dame, Georgetown University School of Dentistry, and Indiana University for his specialty training. He is an avid researcher, lecturer, and author on topics of interest to clinical dentists and hygienists. Dr. Donley strongly advocates for dentistry to occupy its rightful place in the healthcare arena, and his current focus is on introducing the new wellness narrative of dentistry. We are excited to have Philips Sonicare as our sponsor for this episode, which was recorded live at their booth in Vancouver, Canada. Joined on the episode are
Cindy Sensabaugh, RDH, MS the Sr. Manager, Professional Relations & Education and Lindsey Dalley the Professional Education Manager of Canada. Both sharing some insightful tips on the new advancements from Philips Oral Healthcare, specifically the Philips Sonicare Power Flosser 3000. we discuss the limitations of conventional floss (Dr. Donley shares his viewpoints on flossing near the end of the episode.) We discuss the challenges patient face and how they are managed by us their trusted dental professionals. 
 For too long, dentistry has been viewed as a separate entity from the rest of healthcare. But the reality is that oral health is directly connected to overall health. Research has shown that periodontal disease is linked to a number of systemic diseases, including heart disease, diabetes, and even some cancers. It's time for dentistry to take its rightful place on the healthcare stage and be recognized for the critical role it plays in overall health and wellness.
Dr. Donley shares his views with us on assessment and biofilm management around implant structures and natural teeth as a synopsis to his lecture delivered earlier in the day. 
Thank you to both Dr. D and our friends at Philips for sharing such important messages with the Tooth or Dare audience! 
-----------------------------------------------
Wow, you actually made it to the end of the episode! Congrats, you deserve a virtual high-five. Did you enjoy the show?
Did you learn anything new, or were you just entertained?
Either way, I appreciate you sticking around. Now, if you're feeling extra awesome, I would love it if you could give us a thumbs up, comment, or share with your friends and family. Your engagement helps us improve the show and reach more people who could benefit from our dental expertise.
Plus, it makes us feel all warm and fuzzy inside. And hey, if you haven't already subscribed to our podcast on your favourite platform or on YouTube, what are you waiting for? Follow along with me, @toothlife.Irene, and @toothordare.podcast on this crazy journey. That way, you'll never miss an episode and be the first to know when we release new content.
Thanks for tuning in and supporting our show. From my team to yours, we'll catch you on the flip side with more dental tips, tricks, and laughs. Keep smiling, folks! If you're watching this on YouTube, Please like and subscribe asap. Help a sister out.
Please follow along on my journey on Instagram.
🙋🏼‍♀️ME: @Toothlife.Irene
🎤PODCAST: @Toothordare.Podcast
🥼OFFICE: @ToothlifeStudio
🎥YOUTUBE: @ToothlifeIrene
🎁TOOTHLIFE.CA for Merch
_______________________________________
📦 Amazon Store with my FAV things: https://www.amazon.ca/shop/toothlife.irene?listId=YLX0271390I3
_______________________________________ 🔗
🌲Cool links in my Linktree https://linktr.ee/TOOTHLIFE.IRENE